Download Game Balap Super MotoCross
Halo sobat semua..
Yaaaa, kali ini saya mau bagi bagi link download lagi ini. Kali ini game nya merupakan game yang cukup keren nih buat kalian, khususnya untuk kalian yang suka balap motor, pasti akan tertarik untuk memainkan game ini, nama game nya
Super MotoCross.
Apakah kalian sudah pernah memainkan sebelumnya? Atau mungkin ingin mencoba sekarang? Nah, untuk kalian yang baru ingin mencoba, mungkin kalian harus membaca deskripsi dan gameplay dari game ini sendiri. Hehhee
Super MotoCross adalah sebuah game balap dengan arena berbahaya seperti jurang, tebing dan pegunungan. Arena yang berbahaya membuat game ini semakin seru untuk dimainkan dan tidak akan membuat kalian bosan. Di game ini kalian harus menyelesaikan misi yang tersedia dan kalian akan mendapatkan Piala nya jika kalian menjadi juara.
Di game ini terdapat beberapa track yang bisa kalian lewati. Pertama kalian memainkan game ini, beberapa track akan terkunci, untuk membuka track-track berikutnya, kalian setidaknya harus mendapatkan piala perunggu atau juara kedua di track sebelumnya.
Game ini memiliki 15 level. Untuk level pertama (In the Jungle) bisa dibilang cukup mudah karena arena nya pun tidak begitu sulit, hanya ada sedikit tanjakan, jadi kalian hanya perlu mengatur kecepatan gas motor kalian. Kesulitan game ini akan semakin bertambah di level-level berikutnya. Arena selanjutnya adalah Flip Abuse, Stone Abuse, Box Madness, Huge Stump, Debris, Plates, Insanity, Sky Jump, Brick Walls, Structure, Fog Ride, Dungeon, dan Final Trial. Pertama kalian memainkan game ini, hanya arena In the Jungle yang akan terbuka, dan untuk arena lainnya akan tertutup sebelum kalian mendapatkan piala.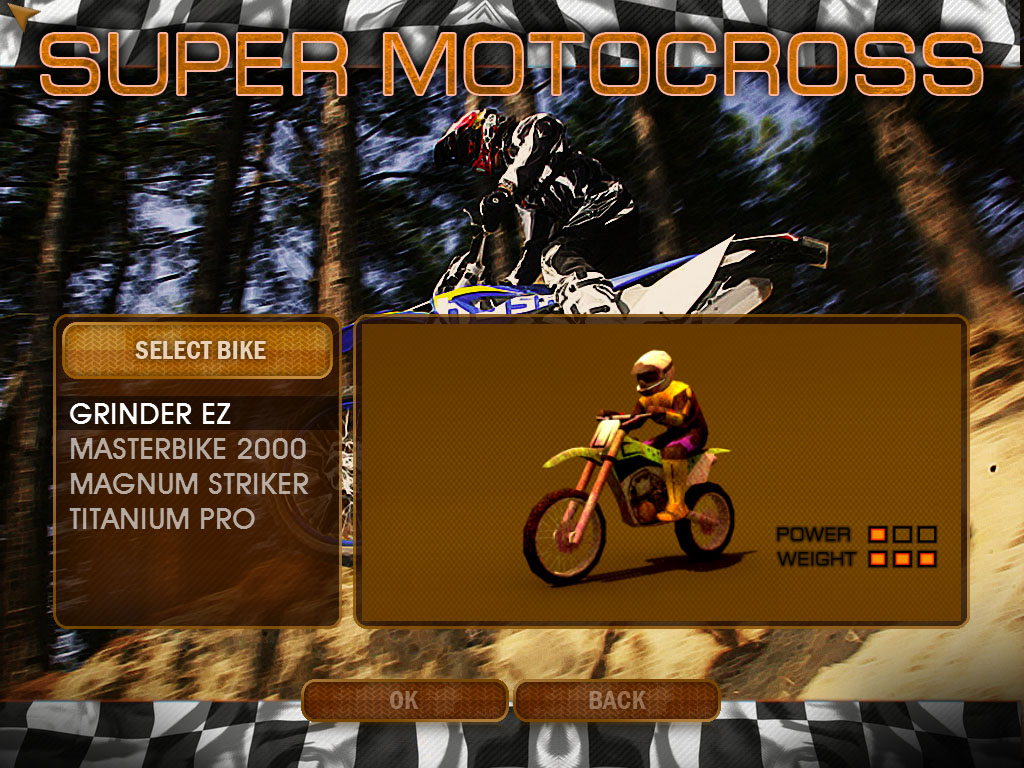 Ada beberapa tipe motor juga yang bisa kalian pakai di game ini, antara lain Grinder Ez, Masterbike 2000, Magnum Striker dan Titanium Pro. Tapi sama seperti arena, ketika kalian memainkan game ini yang terbuka hanya Grinder Ez, untuk membuka jenis motor lainnya kalian harus mendapatkan beberapa piala terlebih dahulu.
Game ini memakai visualisasi 3D.
Windows 2000/XP/Vista

Processor 1 Ghz or better

256 Mb RAM

64 Mb of video memory
Untuk kalian yang ingin mendownload game ini secara gratis, kalian bisa mengunjungi link berikut: Download Super MotoCross

Download Game Balap Super MotoCross